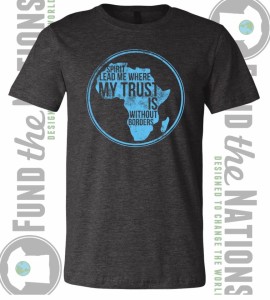 Genesis Worship Center will be taking a team to our sister church in Nairobi, Kenya in January! We are still raising money to cover the costs. We are currently selling the awesome shirts pictured below. Proceeds from the shirt sales will go directly towards the mission trip.
Prices:
T-shirts are $15
$2 extra for sizes 2X & up.
We will be taking orders from now until December 11!
If you are interested in purchasing a t-shirt, you can do so by clicking the donate PayPal button in the top right corner, enter the amount of your purchase ($15.00 for one regular size shirt, $30.00 for two, etc. – please refer to price list above) and add your name, "Mission Trip Shirt Sale" and any additional information in the "please give name and amount" description when completing your order.
You can also contact any member of the mission team at GWC to purchase one or send us a Private Message on Facebook!
Thank you all in advance for your support in spreading the Gospel!